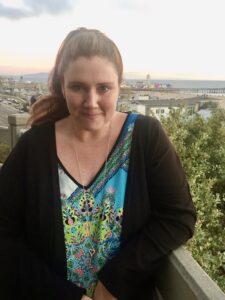 Jennifer Maloney-Prezioso is a Tony and Emmy Award winner with a long history in the entertainment industry.  She began producing, writing and directing at NYU where she was the class Valedictorian.
Jennifer's Broadway producing credits include Spring Awakening (won Tony & Drama Desk Award), American Idiot (nominated for Tony & Drama Desk Award), Rock of Ages (Tony Award nomination), Legally Blonde (Drama Desk nomination).  She also produced Broadway's Superior Donuts, Chita Rivera: The Dancer's Life and the Off-Broadway hit, I Love You Because.  
Jennifer is the Lead Producer of the Broadway-bound musical Beaches, based on Iris Rainer Dart's best-selling novel, which became a blockbuster film with Bette Midler.  
Jennifer was honored by the New York Musical Theatre Festival as one of three "Broadway producers under 40 making their mark on Broadway."  Jennifer received accolades for producing 110 Stories, a play featuring a star-studded cast (Samuel L. Jackson, Katie Holmes, Kathleen Turner, Cynthia Nixon and many others) to commemorate the 10th anniversary of 9/11.  
Jennifer produced over 1,700 hours of television as the Coordinating Producer of As the World Turns.  Jennifer's producing team won the 2001 and 2003 Emmy Awards for Best Drama Series and they were nominated in 2002, 2004, 2005 and 2006.  Jennifer produced and co-wrote the film See You in September directed by Tamara Tunie, starring Justin Kirk, Sandra Bernhard and Whoopi Goldberg. 
Jennifer is a board member of The Groovy Projects and was on the board of The Worldwide Children's Foundation for five years.
Jennifer is currently directing and producing a documentary film, Class Dismissed 2020, which follows six remarkable 2020 high school seniors from the beginning of the COVID-19 lockdown throughout their journey through college.